Hypertext And The Age Of Trump
An excerpt from the closing chapter of Intertwingled, a reflection for my colleagues on 30 years of research in hypertext and new media.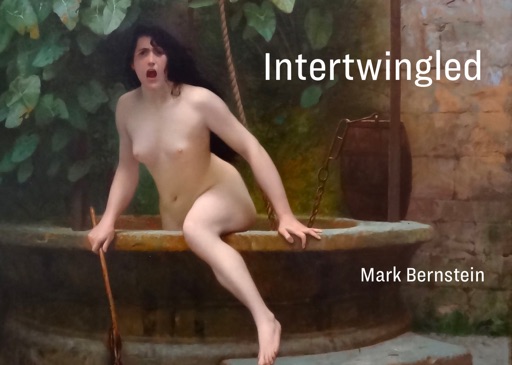 The future is not what it was.
Ted Nelson concludes Dream Machines with the peroration, "Yours for a better world, before we have to settle for Any." We now see he was too optimistic.
The prophetess says:
Virginia Woolf wrote in her journal, "The future is dark, which is on the whole the best thing the future can be, I think." Dark, she seems to say, as inscrutable, not as in terrible. We often mistake the one for the other. Or we transform the future's unknowability into something certain, the fulfillment of all our dread, the place beyond with there is no way forward. But again and again, far stranger things happen than the end of the world. [Rebecca Solnit, Hope In The Dark]
The future of serious writing lies on the screen. But there may be no future of serious writing, because it seems increasingly probable that there will be no future.
The December day the wittiest friend I've ever had had come home from the hospital. I brought her homemade soup and instant lies. Both offerings were meant to comfort (me as well as her); neither could be swallowed with ease any more. I found her sitting at her living room window, watching the melting snow. 'I'm sitting here in a blaze of optimism, planning my garden,' she said. We both laughed, an astonished burst, and then stared at each other in shocked recognition of what had been unspeakable between us, that maybe she wouldn't live to see the garden's blossoming. She didn't. [Judy Wax, Starting Life In The Middle]
We built tools that would permit legislators to understand the laws on which they voted. The legislators did not want to understand. They wanted to win the next election, or to receive a lucrative sinecure if they lost.
WHERE are Elmer, Herman, Bert, Tom and Charley,
The weak of will, the strong of arm, the clown, the boozer, the fighter?
All, all, are sleeping on the hill. [Edgar Lee Masters, Spoon River Anthology]
Together, we built textbooks that could adapt themselves to readers of disparate backgrounds, inclinations, cultures. The readers did not want such textbooks; they wanted credentials.
We attacked a problem that had plagued storytellers since Plato: how can a story be true when you tell it once, in one way? We made new media: clumsy, brutal, stumbling as new media are, but new. People didn't want new media: they wanted to monetize their cellphone videos, and they wanted to write (but not to read) conference papers about them.
We built social media platforms to bring people together. "People" did not particularly want to be brought together. Nazis wanted to meet other Nazis, though, so we helped with that. Con artists wanted to meet more victims, and we helped them, too.
The PR agencies of thieves, extortionists and murderers wanted to improve their clients' image. We gave them Wikipedia and didn't ask for a receipt.
We built research platforms, scholars' workbenches, digital libraries and crisis management systems so that, when we needed an answer, we'd be ready. When the day came and the planet was catching on fire, people decided they'd rather watch a reality television personality own the libs.
Paperback, 130 pages. isbn 1-8845-1156-2. Available now.